What is Motor Trade Insurance?
Motor trade insurance, also known as 'traders insurance' is a specific type of commercial insurance policy. It is designed to insure all those operating within the motor trade industry including car dealerships, mechanics, body shops, combined traders and more.
Broken down to 'combined' or 'road risk only' polices, motor trade liability insurance can be tailored to allow you to drive & work on customer vehicles. You can also sell vehicles, provide cover for a premises along with many other trade related activities.
How our process works
We've worked hard to refine our process and keep it as quick, easy and simple as possible for our customers.
What's Covered By Motor Trade Insurance?
When applying for a motor trade quote, you should first decide on the level of cover that you would like. Like car insurance, this is broken down into the following.
Comprehensive Cover: This is the fullest and most robust cover, offering insurance for the third party and your own vehicle in the event of a fault claim.
Third Party Fire and Theft: This is the middle range of cover and insures the third party and your vehicles if stolen or set fire too. If you cause a crash, you will not be covered for your vehicle.
Third Party Only: This is the lowest and cheapest cover available, and will only insure the third party in the event of an accident.
You should always speak with the advisor to better understand what level of cover is right for you.
Additional Traders Insurance Cover
Every motor trade business is different, therefore it is wise to consider some additional extras for your policy.
What Kind Of Business Needs Motor Trade Insurance?
If you are involved in buying, selling, repairing, or working with cars in any capacity, you will require a suitable traders insurance policy.
Various motor trade businesses, including car dealers, valeting or car detailing businesses, breakdown and recovery firms, scrap dealers, car restoration businesses and car parking or car jockey services (such as those found at airports), would all benefit from having the protection of a good trade insurance policy.
Do I Need Motor Trade Insurance If I'm Self-Employed?
If you're self-employed, you'll probably need traders insurance, depending on the type of work you do. If you work with vehicles, including buying, selling, repairing, or servicing them, it is highly likely that you will require some form of motor trade insurance to protect yourself and your business.
The specific type of motor trade insurance you require will depend on the nature of your business and the level of risk involved. For example, if you work from a fixed location and only deal with customers on your premises, you may need liability insurance and property cover to protect your business and your customers. If you also test drive vehicles or drive them on public roads, you will need road risks coverage as well.
It's important to note that standard car insurance is not sufficient for self-employed individuals in the car trade industry. This is because it typically does not provide any protection for commercial use or business activities. As a result, you need a specialised motor trade insurance policy to ensure you have the right level of cover for your business activity.
If you work in the motor trade industry as a self-employed individual, you should speak to an insurance broker to determine what type of cover you require. This way, you can ensure you have adequate protection for your business.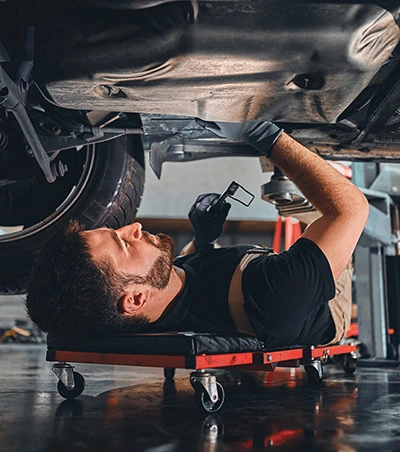 What Is Liability Insurance For Motor Traders?
Liability insurance for motor traders is an insurance policy providing protection for traders who face claims arising from third parties. These claims can be in relation to injury, property damage of financial loss as a result of your business activity.
It won't typically include claims from employees as you will require employee liability insurance for that. If you employ other people, employers liability is a legal requirement.
Motor trade liability cover is vital in protecting a motor trader from financial loss resulting from claims. An example of this is, if a customer's vehicle is damaged or stolen while in your care, you will be liable for the cost of the damage. This is where a liability policy steps in.
The level of liability cover required will differ from trader to trader. When speaking with a motor trade insurance broker, be sure to mention everything or you could risk not being insured correctly.
How Much Does Traders Insurance Cost In The UK?
The cost of motor trade insurance can vary significantly depending on several factors. These include the type of motor trade business, the level of cover required, any employees, any stock cars and your claims history. Because of this, the cost of motor trade insurance is higher than standard car insurance due to the increased risks associated with operating a business in the motor trade industry.
It's also important to note that there are different types of motor trade insurance policies available, including road risk only policies, liability policies, and combined policies. Road risk only policies tend to be the cheapest option as they provide limited cover. Combined policies on the other hand can provide more comprehensive cover but can be more expensive.
How to Save Money on Motor Trade Insurance
You can do a few things to improve your chances of getting cheaper motor trader insurance. You could benefit from the below ideas.
It is crucial that you are honest when applying for insurance. If you don't actually have security systems in place, then you can't claim you have when applying for a quote.
Frequently Asked Questions